How to stop the swine flu – The game
Posted on 23:29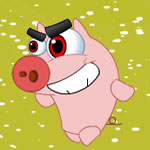 Play How to stop the swine flu – The game
What can i do in 8 hours ? A game about the swine flu of course.
I designed this game in order to test the popularity of game like this.
I saw this game http://www.swinefighter.com/ 4 days ago and i was horrified.
I would like to know what can i do in few hours :).
Have fun.