I'm proud to annonce the release of the multiplayer mode of Nano War iOS (update 1.05).
The Multiplayer mode is FREE!


The multiplayer mode uses Game Center and the matchmaking service. The online game works very well. The gameplay is very smooth. I didn't see any lags.
You can invite your friends and play against them up to 4 players.
IT'S REALLY FUN! :)
10 seconds after tapping the matchmaking button a player joined the game.
I played against 4 different players and each battle was different.
Here my first victory against a human player. :)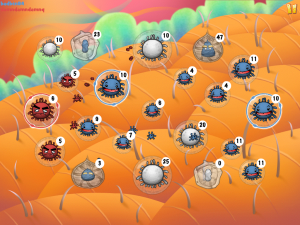 There are 2 different maps for 2, 3 and 4 players. But I will to add more maps and more features.
Please rate and write a short review again! Thanks
Enjoy ! ;)