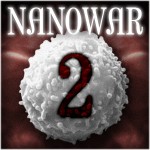 Finally the sequel of Nano War 1 released in november 2007.
I hope that new game will be a great success llike the first episode.
Every humans own billons of nanoscopic cells.
Some of these cells are doomed to protect our organism and fight foreign organisms.
Even confined to smaller and unlikely places the war is present.
Welcome on Nano War 2.
Play Nano War 2 on Kongregate.
What's news ?
Solo mode
25 levels: play against 1, 2 or 3 computers.
Upgrade your cells
3 difficulty levels
Multiplayer: play against 1, 2 or 3 players.
Skirmish mode
21 Achivements
The White blood cell: Increase your cells and capture opponent's cells.
The Fat cell: Protect your cells or infect opponent's cells
The Antibody cell: The most powerfull cell, increase your production or capture opponent's cells and units instantly.
Have fun!