Rolling Jump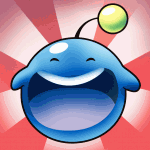 Hello, I'm proud to present you my last game on iOS: Rolling Jump. The Flash version was designed and developed in may 2009.
The new version is co-published by Chugulu.
You can download the free version here. The free version is limited by the score : 10 000 pts max. Or buy the full version here for $0.79.
Enjoy! And thanks to the Chugulu Team.
Description
Help Lighty save the light of the world by escaping from the dark evil creatures in this incredibly FUN and ADDICTING game! Simply jump from each wheel up into the sky and stars to protect the light of the world.
In Rolling Jump, your goal is to help the hero, Lighty, jump up into the sky and away from the dark evil creatures as fast as possible. Learn secrets of the game like double tapping, jumping onto walls, and discover how to attain the rainbow path to help Lighty save the light of the world, and ultimately prove his worth.
★ 7 levels to discover the stars
★ Increasing difficulty and real challenge for the hardcore gamers
★ Get a Boost bonus after eating suns and reach the space faster!
★ Avoid the air-ballons that won't let you jump on a new wheel
★ "Slime" wheels that bump Lighty
★ Multiply your score x10 with perfect jumps
★ Use wall to bounce and reach upper wheels
★ Compete in a worldwide ranking via Game Center
★ Compare your score with your friends and challenge them !
★ Cute Retina graphics
Get free tips and be the first to hear updates about Rolling Jump on Facebook :
http://www.facebook.com/rollingjump
Follow us on Twitter: @Chugulu_US
Thanks for playing and enjoy!
Development
First version: may 2009 Flash version.
iOS version: summer 2011
Designed and developped by Benoit Freslon
New graphics and sounds: Chugulu Games
Publisher: Chugulu Games & Benoit Freslon
Screenshots