Part 3 – Create the angry bird character
Introduction
Here the third tutorial to learn how to create a physic based game like Angry Birds in Flash.
You can download the complete sources here: https://benoitfreslon.com/wp-content/uploads/2013/04/How_to_create_a_game_like_angry_birds_part3.zip

If you missed the first tutorial you can find it here: https://benoitfreslon.com/fr/tutorial-how-to-create-a-game-like-angry-birds-with-box2d-world-construction-kit-flash-part-1
In this tutorial we will create the Bird character. We will add some very simple interactions like: shooting, repositioning.
Modifications
I modified the world settings in order to have a smooth moving.
Click on the World MovieClip in the stage and set this properties:
gravityY = 2
timeStep = 0,04
Bird creation
Create a new symbol:
Insert > New Symbol > Type: MovieClip
Name: Bird
Check: Export for ActionScript
Class: Bird
Ok
Draw a red circle in the center of the MovieClip
Set the size to 30×30 from the properties panel.
Draw the bird face and the wings like this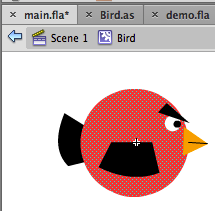 You also can download my sprite:

Great now add an instance of Bird in the World:
Double click in the World MovieClip in the library
Drag and drop the Bird instance in the World MovieClip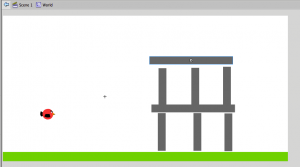 Now create the Bird class file:
File > New > ActionScript 3.0 Class > Class name: Bird > OK
File > Save as > Save the file in the same folder of the main.fla file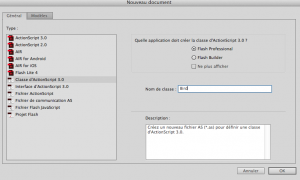 Finally replace the code in the class by this one:
1

2

3

4

5

6

7

8

9

10

11

12

13

14

15

16

17

18

19

20

21

22

23

24

25

26

27

28

29

30

31

32

33

34

35

36

37

38

39

40

41

42

43

44

45

46

47

48

49

50

51

52

53

54

55

56

57

58

59

60

61

62

63

64

65

66

67

68

69

70

71

72

73

74

75

76

77

78

79

80

81

82

83

84

85

86

87

88

89

90

91

92

93

94

95

96

97

98

99

100

101

102

103

104

105

106

107

108

109

110

111

112

113

114

115

116

117

118

119

120

121

122

123

124

125

126

127

128

129

130

131

132

133

134

135

136

137

138

import

flash

.

events

.

Event

;

import

Box2DAS

.

Collision

.

*

;

import

Box2DAS

.

Collision

.

Shapes

.

*

;

import

Box2DAS

.

Dynamics

.

*

;

import

Box2DAS

.

Dynamics

.

Contacts

.

*

;

import

Box2DAS

.

Dynamics

.

Joints

.

*

;

public

class

Bird

extends

Circle

{

/** State of the bird. preparing, shooting */

/** Check if the player press the button to shoot */

private

var

willShoot

:

Boolean

=

false

;

/** Check if the player press the button to reset the bird position */

private

var

willReset

:

Boolean

=

false

;

/** Power of the shoot */

private

var

power

:

Number

=

0

;

/** Get the angle in radians between the mouse cursor and the bird */

private

var

angleRadian

:

Number

=

0

;

/** Init x position of the bird */

private

var

initX

:

Number

=

0

;

/** Init t position of the bird */

private

var

initY

:

Number

=

0

;

/** Constructor method, called when the bird instance is created */

/** Called when the bird is added to stage by box2d */

override

public

function

create

(

)

:

void

{

reportBeginContact

=

true

;

// Reset the bird at the begining

// Add a loop, called 30 times per second

listenWhileVisible

(

world

,

StepEvent

.

STEP

,

step

,

false

,

0

)

;

/** Set the physic shapes and the size */

override

public

function

shapes

(

)

:

void

{

private

function

reset

(

)

:

void

{

// In order to move the body physic shapes we have to set the type to Animated

// State when the bird is ready to be shooted

public

function

step

(

e

:

Event

)

:

void

{

// If the bird is ready to be shooted and the player press the mouse button

if

(

state

==

"preparing"

&

amp

;

&

amp

;

Input

.

mouseIsDown

)

{

}

else

if

(

state

==

"preparing"

&

amp

;

&

amp

;

!

Input

.

mouseIsDown

&

amp

;

&

amp

;

willShoot

)

{

// If the player release the button when the bird is ready to be shooted

}

else

if

(

Input

.

mouseIsDown

&

amp

;

&

amp

;

state

==

"shooting"

)

{

// If the bird is shooted and the player press the mouse button

}

else

if

(

!

Input

.

mouseIsDown

&

amp

;

&

amp

;

willReset

)

{

// If the bird is shooted and the player release the mouse button

/** Prepare to shoort method */

private

function

shoot

(

)

:

void

{

trace

(

"shoot power:"

,

power

)

;

// The bird will be moved by the physic engine with type: Dynamic

var

powerX

:

Number

=

-

power *

Math

.

cos

(

angleRadian

)

;

var

powerY

:

Number

=

-

power *

Math

.

sin

(

angleRadian

)

;

// Aplly the impulse force

b2body

.

ApplyImpulse

(

new

V2

(

powerX

,

powerY

)

,

b2body

.

GetWorldCenter

(

)

)

;

// Switch state to shooting

/** Prepare to shoot method */

private

function

prepareShoot

(

)

:

void

{

// Get the mouse position in the world MovieClip

var

mouse

:

Point

=

Input

.

mousePositionIn

(

world

)

;

// Get the distance between the mouse and the bird

var

distanceMouse

:

Number

=

Point

.

distance

(

mouse

,

new

Point

(

x

,

y

)

)

;

// Limit the distance to 150px in order to limit the impulse force

if

(

distanceMouse

&

gt

;

150

)

{

// Set the boolean willShoot to true

// Convert distanceMouse to impulse force

power

=

distanceMouse

/

13

;

// Get the radians angle between the mouse and the bird

angleRadian

=

Math

.

atan2

(

mouse

.

y

-

y

,

mouse

.

x

-

x

)

;

// Orient the sprite to the shoot direction

rotation

=

angleRadian *

180

/

Math

.

PI

+

180

;